About The Collier Friends of the Panhandle Trail
Rock the Quarry
August 25-26, 2023
Night Walk
October 21, 2023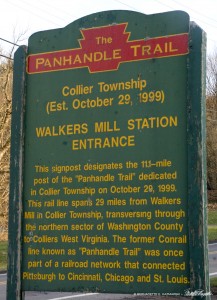 The Collier Friends of the Panhandle Trail maintains the approximately 2.4 miles of the Panhandle Trail from Walkers Mill Entrance to Gregg Station.
The modern Panhandle Trail spans 29 miles from Walkers Mill in Collier Township, traversing through the Northern sector of Washington County, to Colliers, West Virginia.
This Panhandle Trail is now part of The Industrial Heartland Trails Coalition, as well as the Great American Rail-Trail that spans from Washington State to Washington, DC.
Collier Friends of the Panhandle Trail is powered by dedicated volunteers and always welcomes new board members to help in planning annual events and in keeping up with regular trail maintenance. Visit our Contact page for information about volunteering and joining the board, as well as open positions as officers on the board.
About This Website
This website pertains to the portion of the Panhandle Trail maintained by the Collier Friends of the Panhandle Trail.
For portions of the Panhandle Trail located outside of Collier, click on the "Links" button above or search the Internet.
And sign up for our BLOG to read the latest news and to AUTOMATICALLY receive notices about trail events.