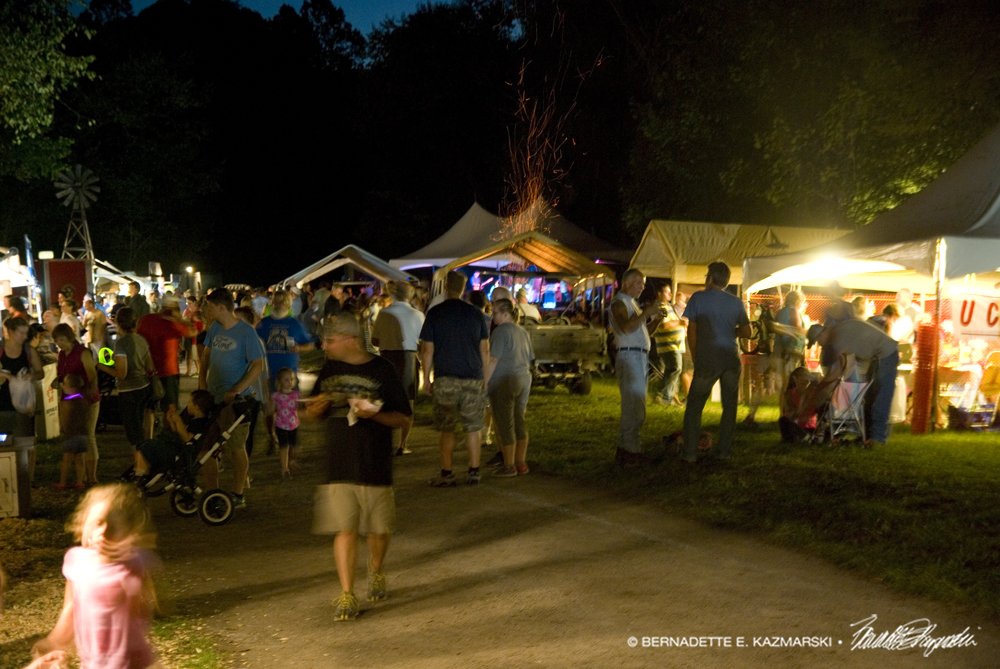 Music, food, science demo, games, raffles, bonfire, fire trucks, fun for all ages—since the Panhandle Trail was opened for business in 2000, "Rock the Quarry" (RTQ) has been an annual tradition featuring two days of music, food, and fun on the trail to help raise funds for upkeep, maintenance and community events for trail users hosted by the Collier Friends of the Panhandle Trail.
Each year, RTQ showcases up-and-coming local musical talent and a popular headliner each night. The afternoon features lots of activities for the kids and the evening includes the Grand Rubber Duck Race and the traditional Sunset Remembrance Ceremony.
What's the quarry part about? The area near the trailhead was once a limestone quarry with portions of limestone left as well as three ponds where the stage and event area are set up.
This year's RTQ starts on Friday, August 24 from 5:00 to 11:00 p.m. and continues on Saturday, August 25 from 3:00 to 11:00 p.m. Vendors both days include food, games, artwork, women's clothing and cosmetics and the Collier Friends of the Panhandle Trail with a basket raffle.
Vendor spaces are still available for one or both days. Visit the website for more information and an application to download.
Activities and Music
Family Fun Zone (all day)
Games & Crafts (all day)
Mr. Science Demonstrations
Saturday:
7:30 pm Flag Ceremony
7:40 pm Rubber Ducky Race
MUSIC
Friday (5:15 – 11:00PM)
5:15pm—Unnecessary Polka (Alternative)
6:15pm—BADDADZ (Classic Rock)
7:25pm—Mad Mike's Blues Revue (R & B)
9:00pm—Bill Ali Band (Classic Rock)
Saturday (3:00PM–11:00PM)
3:00pm—Dead Sin (Classic Rock)
4:10pm—Dean Street Kings (Classic Rock)
5:30pm—Collisions (Classic Rock)
7:00pm—Bindley Hardware Co (Americana)
9:00pm—NOMaD (Country)
About the Panhandle Trail and the Collier Friends
The Panhandle Trail is named after the Panhandle Division of the Pennsylvania Railroad, the abandoned rail line upon which it is built, and stretches for 29 miles from Walkers Mill in Collier Township, PA to Colliers, WV.
The Collier Friends of the Panhandle Trail maintains approximately 4 miles of the Panhandle Trail from the Walkers Mill Entrance to Gregg Station with spring cleanups and smaller projects of maintenance and upkeep. In addition to Rock the Quarry the organization hosts a Night Walk on the Saturday before Halloween with lighted Jack-o-lanterns along a section of the trail and hayrides, hot chocolate and cider, and treat bags for the kids.
In addition to inviting all who want to come to the event, Collier Friends of the Panhandle Trail is also accepting gift certificates or other prizes for our various auctions and raffles from individuals or businesses—items with logos are welcome—as well as monetary donations and volunteer help with RTQ and during the year for upkeep and other events.
If you are able to contribute items or have questions, please visit our website at www.panhandletrail.org and use the comment form to send messages directly. You can also contact Kay Downey-Clarke (724-693-0870) kayclarke@comcast.net to make arrangements for monetary donations and donated items. Checks can be made payable to The Panhandle Trail Association and sent c/o Treasurer, 2520 Hilltop Road, Oakdale, PA 15071. We are a 501 (c) (3) charitable organization and our tax number is available upon request. To ensure that we recognize all donors in our program, please let us know of your commitment by August 19, 2018. If you wish to remain anonymous, please so note.
# # #